If you're thinking about working remotely as a digital nomad, Yumasoft is one of the companies allowing that. We leverage remote work to make the most of it, also allowing our employees to travel.
However, as with everything, being a digital nomad has its dark sides. In today's article, I'm exploring the most annoying digital nomads problems. Read on to be well-prepared for this lifestyle before you decide to take it on! ?
Visas
When traveling full-time, visas can be a real pain. When living in your home country, you don't think about that aspect of life at all. However, digital nomads who want to stay longer in a foreign country must apply for an appropriate visa first. What's problematic is the permitted length of stay. In most Southeast Asian countries, which are very popular among remote workers, foreigners can stay in the country for up to one month. After that time passes, you need to either exit the country or apply for another, often expensive visa extension.
Because of that, there's a common practice within digital nomads called a visa run. It basically means to leave a particular country by bus or plane for a day or two (sometimes even for just several hours!), only to go back and get another visa stamp in your passport ? Some countries are even trying to introduce mechanisms preventing visa runs. All this makes digital nomads life complicated, stressful and costly.
Taxes
One of the most frustrating digital nomads problems is taxation. In most countries in the world, if you stay for longer than 6 months, you should be paying taxes in the country you're staying in. However, because remote work is still a gray area in most of the world, the taxes often cannot be technically paid by a foreigner.
The issue is that most of the world's countries still have not defined what a remote work really is and how the taxation and visa rules relate to it. In effect, often you are not able to legally obtain a visa that gives you a tax ID, which is needed for paying taxes ?
Even if you finally get a tax ID in the country you live in, there are issues with double taxation. Assuming you have your company registered in your home country and are still paying taxes there, you might be taxed twice – both by your home country and your new residence country. In such case, digital nomads must analyze the double taxation agreements between the two countries, which are often hard to understand. Establishing your double taxation rules sometimes requires consulting a local tax advisor, which adds up to the cost of your trip.
Apartments not suitable for remote work
For me, this is a very annoying point! If I were to choose one of the digital nomads problems I could magically solve, I would vote for apartments not adjusted for working. Sometimes even such a would-seem-irrelevant thing like a bad table or chair not suitable for working with a laptop can be a disaster for your stay. Especially if you book a flat for a longer period.
What I hate the most are these IKEA chairs, popular in the whole world ?: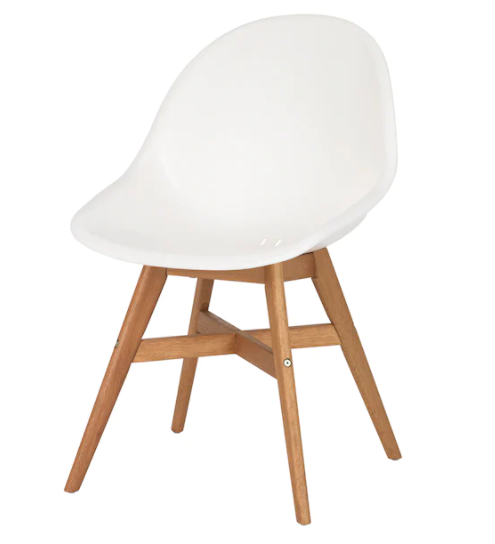 I can't even express how much I do hate this chair ? Maybe they look fancy, but try sitting on it and working with laptop for 8 hours… The back of this chair is very flexible/elastic, so it is impossible to sit straight on it. So I am publicly asking all apartments owners – please stop buying IKEA FANBYN (and similar) chairs! ?
Adding to that too low/too high tables, poor WiFi quality and not enough light, the apartment you book for a few months can become your remote work prison!
Internet
Digital nomads need constant Internet access. While in most cities it is not a problem, when you want to travel to a bit more remote areas it becomes painful. WiFi is often unreliable, and mobile networks also often can't be counted on.
I remember joining our daily meeting with Yumasoft team in late 2019, when I was living in a remote part of Bali, Indonesia. Amed is a beautiful place, with rice fields and volcano views, but the Internet really sucks there ? On a video call, I couldn't use my camera of course. Even with only voice, I remember me saying something and the guys in Poland hearing it after 20-30 seconds. It was fun, but also a bit of stress.
Time zones
Another challenge digital nomads face on a daily basis are time zones. Working from different continents than your colleagues requires you to adjust to the majority of the team's timezone. Having my team based in Europe while living in Asia, I had to start working around noon and finish work around 8PM.
This becomes even more problematic if most of your team is based in the same place all the time. This has been my case for almost 3 years at Yumasoft. Fortunately, we are quite flexible with working hours, and we try to use asynchronous communication as much as we can. Nevertheless, if you want to become a digital nomad, be prepared that time zones will most probably not be your best friends ? Of course, remember to always check the timezone in the country you are going to travel to!
Making friends/socializing
Many digital nomads problems are related to social aspects of life. Working remotely, it might be hard to make new friends. If you are not an outgoing person or maybe an introvert (as many programmers are), you will not have the safe physical office space to expose you to some social interactions.
Getting trapped at your apartment may make you more isolated than you have ever been before. The solution is to sometimes go out to a café or a coworking space. You can always meet like-minded people there. However, for introverts, it may come at a price.
The same applies to the team you work at. If some of your teammates work at the office, you may feel "out of sync". Some jokes and stories are always only told in the office, and you will not hear them. It might make you feel "out of the team" at some point.
That is why, at Yumasoft we try to organize remote work properly. It is very important that everyone feels part of the team. However, be prepared that it may not work ideally in every company you may work for.
Work-traveling balance
This point is similar to work-life balance, but what work takes from us in case of digital nomads is not life, but traveling ?
Imagine you are living on an exotic island in Thailand. The weather is great, there are some stunning beaches around you have not visited yet – you arrived just 3 days ago. However, you must finish this important task… Maybe you can go on Saturday? Not this time – you must visit the local immigration office for your visa extension.
That is what I mean by work-traveling balance. Being in exotic and interesting places makes you wanting to explore them, not work ? Going further – sometimes you cannot go to some place, because it is not suitable for remote work (poor Internet etc.). It makes you resign from visiting some cool places around, because you need to work. Even if they are at your fingertips. Unfortunately, being a digital nomad is not a constant holiday ?
Not being understood by others
After you start a digital nomad lifestyle, you will notice that no one really understands what you do. Your friends and family members will soon be introducing you as "the guy who travels". Most of your family will have no idea what you actually do at work. They will say: "she does something on her laptop".
Unfortunately, most people will also not understand your decision to leave home and constantly travel. This is not the lifestyle most people can and choose to have. Be prepared for not being understood by people who surrounded you until this moment. On the positive side, when leading a digital nomad lifestyle, you will quickly meet fellow nomads who will understand you very well ?
Medical insurance
Last but not least – medical insurance. When traveling the world, it can be one of the most costs-generating digital nomads problems. You may still be covered by a public healthcare in your home country, but in most of the countries in the world you are not covered for health problems at local hospitals. If something happens, you have to pay even for using local public healthcare.
That is why digital nomads must but a worldwide medical insurance. Most of the typical travel insurances will not work, because they are usually time-limited. It means that you cannot travel for few years on a travel insurance. You should buy a nomad medical insurance.
Prices for good medical insurance for digital nomads start from 500 USD per year. If you suffer from chronic diseases, it will be even more expensive. You should also read the insurance policy very carefully to be sure it will cover your medical expenses in every case. Especially now, during COVID-19 pandemic.
Digital nomads problems – summary
As you can see, nomadic lifestyle is not perfect – it has its drawbacks as any other lifestyle ? For me, after almost 3 years of working remotely and traveling, I can surely say that the benefits of being a digital nomad outweigh all of these problems. But it is important that you are prepared for them, so they do not surprise you when you get on the road.
Of course, it is always best to check it yourself! There are now many more companies like Yumasoft that allow their employees to work remotely. Just give it a try and see for yourself! ?