In today's dynamic world, many people are seeking unconventional ways of life that combine the freedom of travel, closeness to nature, and remote work. One of the increasingly popular trends is the lifestyle of a digital nomad. This is a person who works and travels at the same time because his job doesn't depend on a location. Many of them choose living in a campervan, blending work with the exploration of new places and experiences.
The Beginning
Thanks to the remote work opportunities offered by Yumasoft, I decided to give this lifestyle a try. In May 2022, I purchased a van, an Opel Vivaro. Over the next 8 months, in my spare time, I transformed it into a campervan. The conversion itself was an adventure, requiring a significant amount of work, the acquisition of new knowledge and skills, and patience. The end result brought me great satisfaction and faith in my own abilities. In early January 2023, I set off on my journey.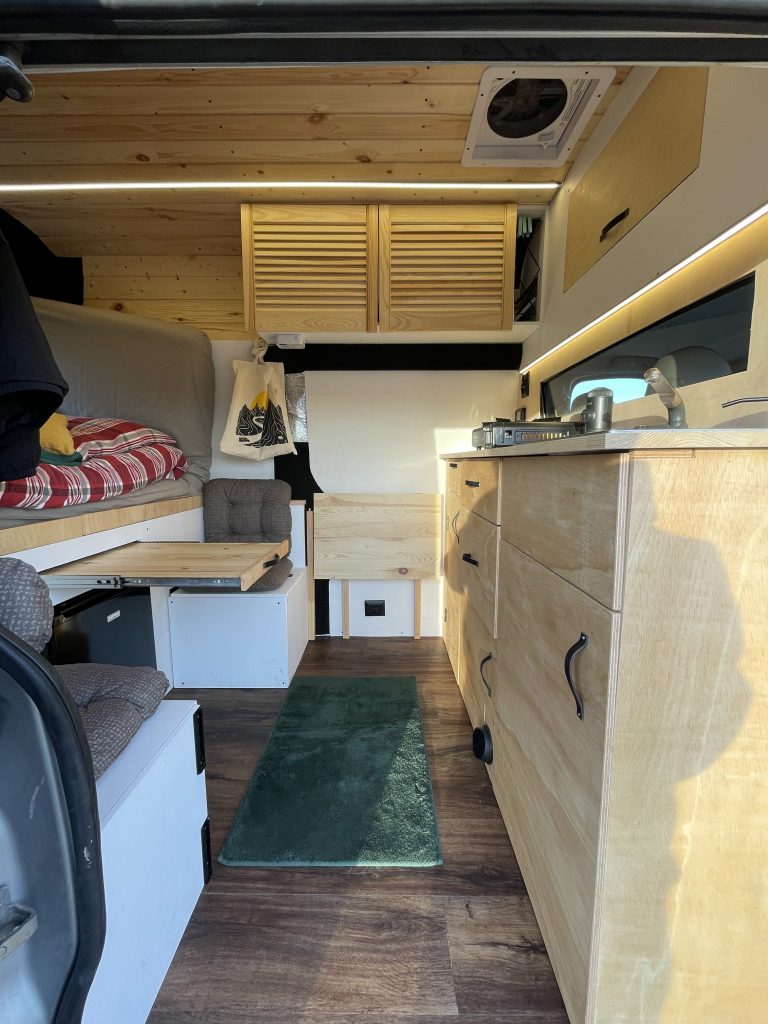 The Route
I began my journey in Wrocław (Poland) and headed straight for Spain. I wanted to escape the cold and rainy weather as quickly as possible. In less than 4 days, I reached the French-Spanish border, and since then, the sun accompanied me for (almost) the entire six-month journey.
The plan was to travel around the Iberian Peninsula along the coast. And this plan almost succeeded. Almost, because to my surprise, in May, northern Spain was still chilly and rainy. I avoided the interior simply because it was much colder there than on the coast. You can see the route of my journey on the map.
The return journey, from the Spanish-French border to Wrocław, was also without many stops, except for a few days visiting friends in Brussels.
At the beginning of June, after traveling 10,000 kilometers on wheels and (luckily the last) 500 kilometers on a tow truck, I reached Wrocław.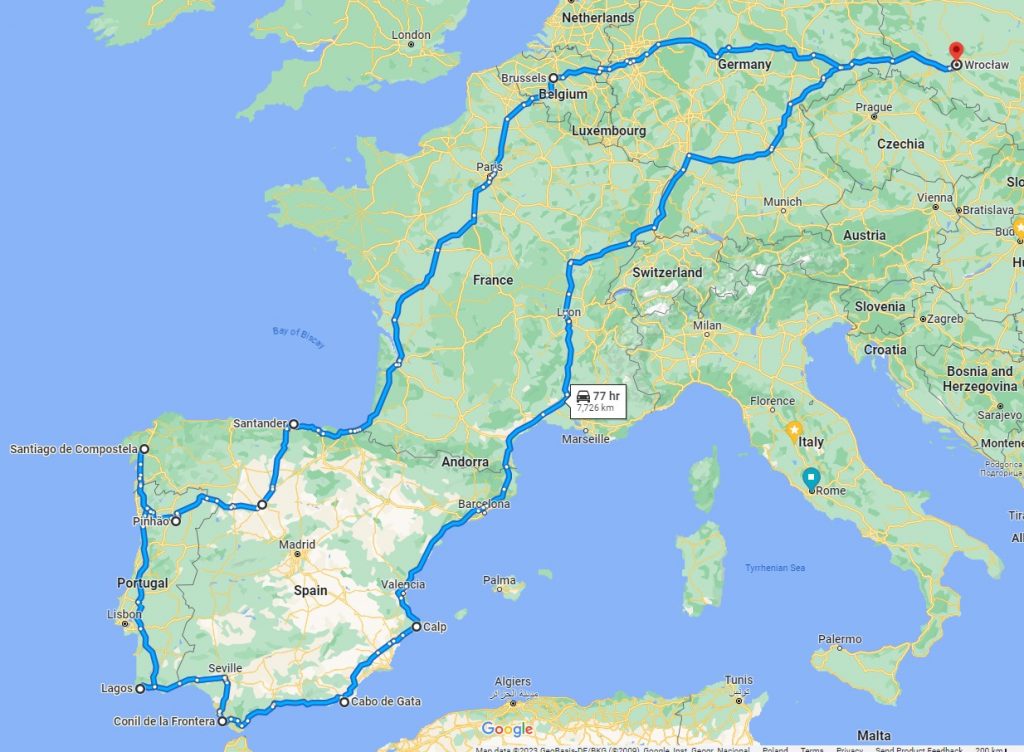 Life in the Campervan
I equipped the campervan to be self-sufficient. That means I have a toilet on board, water tanks, and a solar panel providing electrical power. This allows me to avoid using campgrounds. Out of approximately 150 nights, I spent maybe 15 in campgrounds. This not only saved me a lot of money but, more importantly, allowed me to "live" in beautiful places: on beaches, cliffs, in pine forests, by lakes, rivers, and in the mountains. Although there were times when I slept in a supermarket parking lot or in the city center. I mainly found "wild" spots using the Park4Night app, which is popular among vanlifers, enabling me to meet like-minded people and chat with them around a campfire.
Life in the campervan is simple but not easy. It's simple in a way, similar to life in the countryside: without haste, distractions, in peace, in contact with nature and its rhythm. It's not easy because it lacks the conveniences we're accustomed to: the amount of water in the tank is limited, as is the gas in the bottle, space is limited, and you have to search for a new place to stay almost every day, as well as places to refill clean water, empty dirty water, and the toilet every few days.
The combination of advantages, apparent disadvantages, and remote work provides flexibility and freedom, which is the essence of this lifestyle. You can plan your trips as you see fit, at your own pace, adapting to your work schedule and personal preferences.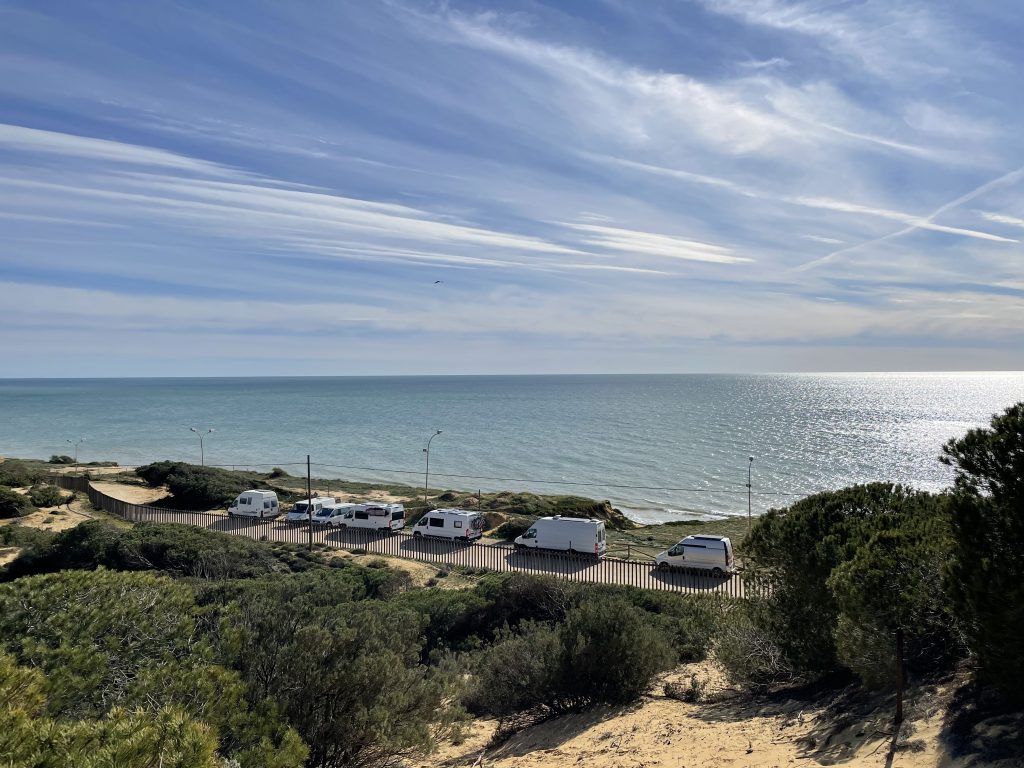 Working in the Campervan
Working in the campervan is not simple and not easy! 😄 The limited space rules out having a comfortable chair, a large desk, or two additional monitors. It's definitely less comfortable than at home or in an office.
Just like working from home, working from a campervan requires self-discipline and good organization. Additionally, the beautiful changing view outside the window doesn't help. You have to cultivate the mindset that it's not a vacation; it's a privilege to be able to work in such places. Despite these challenges, work provides additional satisfaction because it enables us to lead this kind of lifestyle.
Regarding the internet, in each country I purchased a local SIM card with mobile data. Usually, the coverage was good. When it was poor or nonexistent, I had to move a few kilometers or change plans altogether. Fortunately, this happened rarely. An alternative solution would be Starlink, but it's very expensive.
Reflections
Living on the road allows you to feel the call of adventure, a thrill of excitement, step out of your comfort zone, and get to know yourself better. However, long-term travel like this isn't for everyone. Therefore, it's best to rent a campervan for a week first and see if it suits you. I sincerely recommend giving it a try.
Life in a campervan as a digital nomad has far more advantages than disadvantages. Besides work, traveling allows you to discover new cultures, flavors, and traditions. Meeting local residents and fellow travelers from all over Europe becomes a way to broaden your horizons and understand the diversity of the world. It's a lifestyle that promotes a minimalist approach to material possessions and paying attention to what truly matters.